Tuesday, August 14th – Costa Mesa – Orange County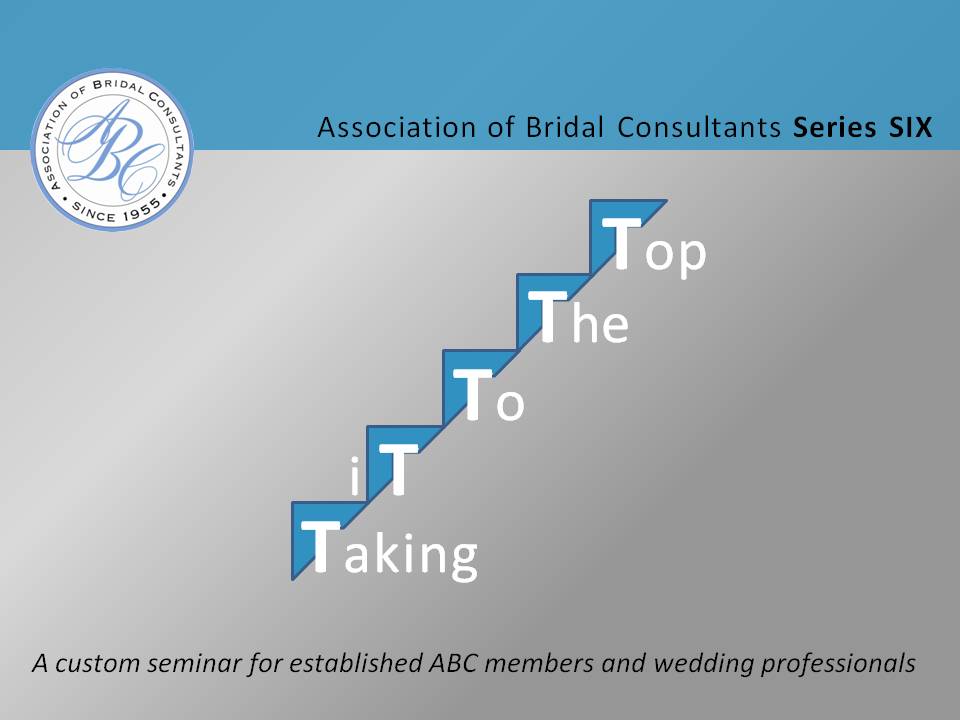 Are you ready to:
Update your Sandals CSS certification
Non-members may attend, but are not eligible for CSS certification
Participate in ABC's only seminar for southern California in 2012
Get the latest ABC updates, topics and issues
Explore ABC's roadmap and learn how to get to the top
Taking it to the Top Seminar Schedule
Tuesday, August 14th

8:00 – 8:30 a.m. Registration – Coffee
8:30 – 11:45 a.m. Sandals Certification
Noon – 12:45 p.m. Luncheon
12:50 – 1:10 p.m Delta King Site Tour
1:15 – 2:00 p.m. Rebranding in a Tough Economy, John Goolsby, ABC-California State
Coordinator, Membership
2:00 – 2:45 p.m. What's Your Excuse? Elise Enloe, MBC, ABC VP and Director of Education
2:45 – 3:00 p.m. Break
3:00 – 3:45 p.m. Give Back~Get Involved! Mary Jo Gallegos, MBC, ABC-California State
Coordinator, Education
3:45 – 4:30 p.m. Bring Your Own Binder (BYOB), Elise Enloe, MBC, ABC VP and
Director of Education
NEED POINTS? ABC members receive 2 points in Education and Professional Development for this one-day seminar and another 1 point in Leadership for CSS certification. Don't miss out on this opportunity!
---
Accommodations
Welcome to the Hilton Orange County/Costa Mesa

. Rooms are available for $129.
Call 714-540-7000 and request the ABC rate to reserve your accommodations if you're coming from out of the area.
* Plus state and local taxes.
---
About the Venue
Costa Mesa's largest hotel, the Hilton Orange County/Costa Mesa, features close to 48,000 sq. ft. of flexible meeting spaces for corporate events and business conferences. Check emails or print boarding passes at the hotel's 24-hour business center and enjoy high-speed internet access in public areas, guestrooms, and meeting spaces. With two outdoor event spaces, experienced catering staff, and a variety of menu options, the hotel is a premier wedding and social event setting.
In your guest room or suite, you'll find 42" flat screen HD TVs, signature bedding and work desks with ergonomic chairs. The hotel's luxurious one-bedroom parlor suites and Presidential suites feature connecting living rooms for entertaining. Executive level guest rooms and suites boast daily complimentary breakfasts and evening receptions (Monday – Friday). Following a busy day of business or touring Southern California attractions, relax at the outdoor pool and whirlpool. Sample signature California Rim cuisine at the award winning Bristol Palms California Bistro where the menu is inspired by local and regional farmers. Watch the chef prepare wood-fired pizzas at the Bristol Palms Pizza Bar. Order a traditional Margherita pizza or create your own version.
Click here for additional hotel information.
---
Directions to Hilton Orange County/Costa Mesa
Driving Directions to Hilton Costa Mesa
3050 Bristol St.
Costa Mesa, CA 92626
From John Wayne Airport: Follow signs to the 405 Freeway North. Exit Bristol Street and turn left. Drive over the bridge, turn left on Hotel Way. Distance from Hotel: 2.5 mi. Drive Time: 5 min.
Courtesy bus runs every 30 minutes.
From 405 Freeway Southbound: Take 405 South to Bristol Street exit (just past Harbor Blvd and Hwy 73 interchange). The hotel is located directly across from the exit on the left.
From 405 Freeway Northbound: Take 405 North to Bristol Street exit. Exit left onto Bristol. Drive over the freeway and turn left on Hotel Way.
From the 57 Freeway: Take the 57 South to I-5 South to Hwy 55 South. Exit Baker and turn right. Turn right again at Bristol Street and the hotel will be on the right hand side.
From the 91 Freeway: Take 91 West to Hwy 55 South to 405 North. Exit at Bristol, turning left. Drive over the freeway and turn left on Hotel Way.
From the 73 Freeway: Take 73 North, exit Bear Street, and turn right, right on Paularino, and left on Bristol.
The Hilton will provide complimentary parking for ABC seminar attendees (normally $21/day).
---
Payment and Cancellation Policy
Cancellations more than 10 days before seminar may be transferred to another ABC seminar or refunded less a $35 administrative fee. Cancellations/no-shows less than 10 days before the seminar cannot be refunded. If paying by check, check must be postmarked by early registration cutoff or received prior to the seminar. ABC member "No-shows" will be invoiced.
Not comfortable with online payments? Register and select "Payment by Check" during the checkout process. Checks can be made out to ABC-Education and mailed to:
ABC Education Department, Elise Enloe, MBC, 660 Neile Ct., Oviedo, FL 32765.
Additional registration questions e-mail Elise Enloe, MBC at ELISEABCFL@aol.com.